Advertise on the Top Gay iPhone app - Grindr
Do you want to reach gay men on one of the hottest new media platforms of 2010
the iPhone app!?
We have teamed up with the #1 iPhone app reaching gay men today... Grindr!
With a reach of over 500,000 gay men worldwide (150,000 members visiting daily) and growing, Grindr has become not only the hottest new buzzword among gay men across the globe, it is also the top iPhone app in use by this desirable demographic. Set your company apart from the rest and let them see your brand associated with some of the most cutting-edge technology today!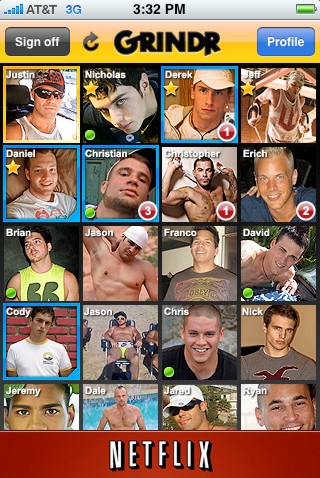 Grindr
has several advertising options as outlined below.
Banner ads - We are able to offer you banner advertising on a cost-per-click (CPC) basis of $0.25. We can link this banner ad to a website of your choice, an iPhone app, iTunes store URL, etc. To get started, we would work with you to set both a daily and a monthly budget. From this budget, we would monitor and serve your banner ads, providing you an up-to-date report as to how your ad is performing.
Broadcast messages - Grindr can target our members geographically with a broadcast message of your choice, allowing our members to tap "More" and be sent directly to the website of your choice. If you have a website URL that is specifically designed for mobile users, your ad's performance will be that much better! The rates for this broadcast message vary based on the region you wish to target.
Profile ads - In addition, we offer Profile Ads. Whether you're a local bar, restaurant or other business serving the gay community, we can work with you to create a customized business profile of your business on Grindr and have your Profile Ad appear with other member profiles in your area.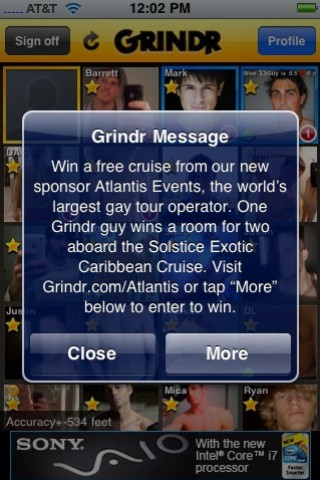 E-Mail Capture
Perfect for Travel & Destination Marketing
(We capture e-mails for you;
Cost is on a per-email basis only)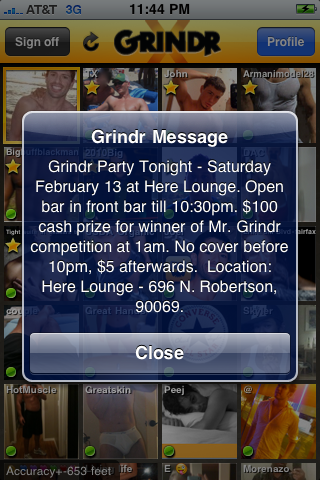 Local Broadcast Message
Reaching Thousands at One Time!
Perfect for beer, wine and spirits advertising
For more information or for a proposal, e-mail us at
www.pinkbananamedia.com/contact.cfm
.